Charlottesville Window Cleaner
Top 3 Reasons to Hire a Professional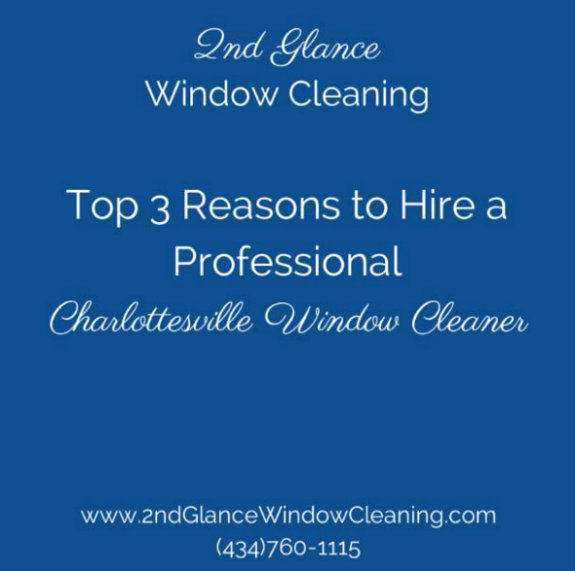 Clean windows enhance the curb appeal of your home and let in natural light. Window cleaning is one of those jobs homeowners may initially feel comfortable trying on their own. However, just because you can do somethings doesn't necessarily mean you should or that there aren't benefits to calling a professional. Below are three reasons why you may want to consider hiring a professional Charlottesville Window Cleaner before you decide to go it alone and clean your windows yourself.
Why Hire a Professional Window Cleaner?
Professional Equipment and Expertise: Simply put, high quality window cleaning requires special equipment. A window cleaning pro will have the proper equipment along with the experience using various professional techniques to clean all types of windows quickly and efficiently.
Streak & Smudge Free Shine: A window cleaning professional has the experience, tools  and professional cleaning solutions to clean your windows leaving a streak & smudge free shine! Your windows will be bright and shiny creating a warm and welcoming atmosphere in your home.
Saves Time: Window cleaning is time consuming. A professional window cleaner can clean more windows in a couple of hours than the average homeowner in a whole day. The knowledge, experience and commercial grade cleaning supplies & tools of window cleaning specialists simply allow them to clean more windows in a lesser amount of time with typically better results.
Need a Professional Window Cleaner in Charlottesville? We're Here to Help!
Window cleaning is our speciality! 2nd Glance Window Cleaning is a professional window cleaning company serving Charlotesville and surrounding counties. Our team of experienced window cleaning professionals are dedicated to providing superb customer service along with quality interior and exterior window washing services.
Schedule a free estimate for your window cleaning project by calling us at (434)760-1115 or filling out our online estimate request form.
Copyright © 2014 by Steven Jackson
Charlottesville Window Cleaner | Top 3 Reasons to Hire a Professional